As many of you know, we've been recently forced to revise our policy and restrict printing and downloading for basic accounts. Today we'd like to present a new update aimed at making it possible to download Public Domain scores.

What's Public Domain?
Public Domain is the status of the work whose copyrights have expired and which is now available for download royalty free.
In the basic sense, all works published before 1923 are in the Public Domain, but in fact the status of particular works vary according to the country. Here is the link to the wiki page to learn more about Public Domain.
Music has existed for thousands of years and humanity has created tens of thousands of masterpieces We, like many of our users, would like these works to be distributed as freely as possible.

New Uploading form
We've changed the uploading and editing form of scores. Apart from standard fields to fill out, there's now a new section called "Type of Composition". In this section, users can mention what work exactly their scores are related to. The options are public domain, original composition or non-public domain.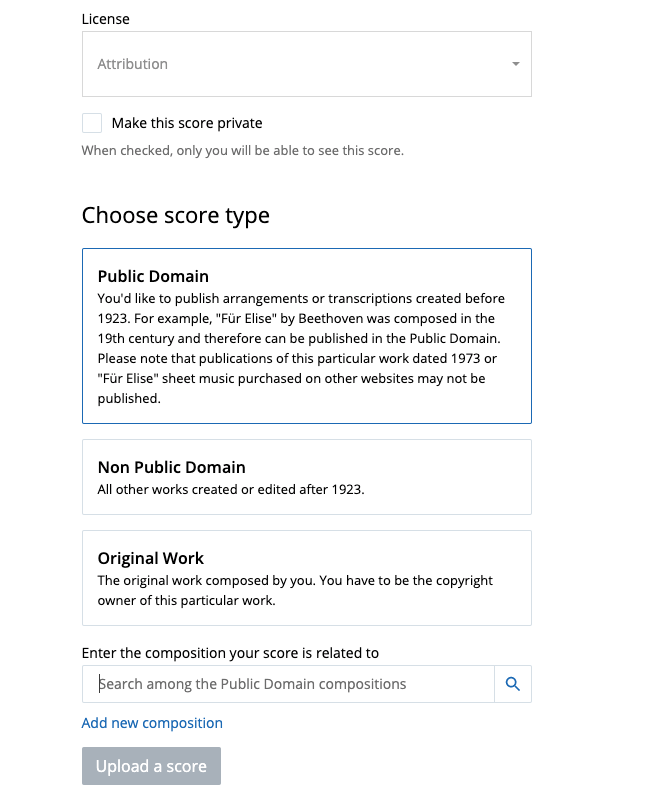 In case you choose Public Domain, you'll need to enter the name of the work your score is related to. After it's been automatically checked, your scores will be available for unrestricted download.

Removing limits to download Public Domain scores
In the nearest future downloading and printing of Public Domain scores won't be affected by the limits set for basic accounts. We believe it's not right that users who create quality content have to pay to upload it. This is the first step towards resolving the issue.

Our further plans
- One of our next top priorities is to let original composers manage the downloading feature.
- We will mark up the existing sheet music library according to the Public Domain / Non Public Domain scores. We might need our Community help in this matter.

To sum up
This is a completely new functionality for Musescore, as we're applying the system to check PD/nonPD compositions for the first time. We can't exclude the possibility of you finding bugs in the way new algorithms work. Please, don't hesitate to let us know about any possible issues.
Last but not least, I'd like to point out how grateful we are to our Community for all the support and understanding in this situation. We believe that actions speak louder than words and we'll prove how important it is to us. We'll continue to work on spreading and sharing music, and of course, taking good care of composers', arrangers' and copyright holders' rights.